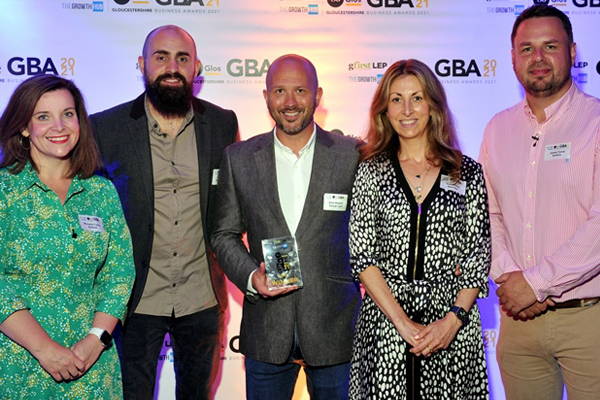 Innovative golf cart manufacturer Stewart Golf has picked up another award: this time for International Business of the Year.
SoGlos Magazine recognized the Quedgeley-based company at the inaugural SoGlos Gloucestershire Business Awards celebration last week.
CEO Mark Stewart, along with Production Manager Ash Hunt (himself a finalist in the Employee of the Year award), accepted the International Business Award on behalf of the whole company.
The award was presented to Stewart Golf in recognition of the continued international growth of business, amidst the continued challenges of Brexit and of course the pandemic.
The company has been a net exporter since 2018, setting up its own subsidiary in the USA to better serve the world's biggest golf market. It doesn't stop at the USA either: in the previous 12 months, Stewart Golf has exported to over 45 countries, providing golfers with class-leading Remote and Follow golf carts.
The release of its flagship cart, the Q Follow, in November 2020 received an incredible response from golfers across the world. With demand for the 'Leader in Follow' surging, Stewart Golf added the X10 Follow and Q Remote to its roster in early 2021, propelling it to a monthly sales record in June 2021.
Despite market uncertainty, Stewart Golf saw total European sales increase by 16% last year and exports now account for almost 75% of all sales, a testament to the brands global appeal and a key factor in helping the company stand out from an impressive shortlist.
On Receiving the award, Mark Stewart said: "We were stood at the back and looked at the other finalists (ALS Mechatronic, Dowty Propellers, SLG Brands) and just to be listed with them is special. To win – phenomenal."