Seb Carmichael-Brown tells us why he chose Stewart Golf
We recently caught up with YouTube star and Stewart Golf ambassador, Seb Carmichael-Brown (AKA Seb On Golf), at the fantastic Centurion Golf Club in St Albans, England.
Previously an X9 Follow owner, Seb spoke to us about his love of the Q Follow and how the added freedom and control had benefited his game.
I SAW PEOPLE USING THE FOLLOW FUNCTION AND THOUGHT 'THAT IS PRETTY SWEET'
My first impressions were purely aesthetic. Straight away you could see it was a more compact shape and easier for transporting in the car to different courses. In my opinion it looks a bit slicker (than my previous X Series).
I use my Q all the time. Home club. Away club. Constantly. The remote control feature is massive, if you're looking for your ball in the rough, within a 50 yard space, you've got to leave your bag down somewhere. When you find your ball you go and get your clubs from where you left them. But when you've got the control, you can just stand there and bring your bag back to you. That's a massive thing I always get a kick out of every time I do it. Little things that you don't think of normally give you so much joy.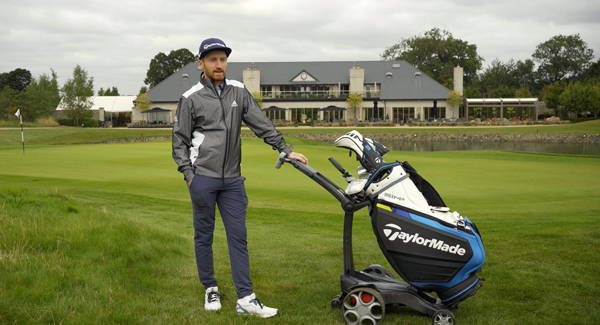 With the Follow function I particularly use it when I'm on a long hole, on the fairway, obviously it gives you the ability to be hands-free. You can look at your course guide or whatever you want to do and the caddie just follows you behind. For me that's when you feel like you are getting away with one, like a cheat code for the golf course. People are always impressed by it.
When I play in the winter and the electric caddies are banned from the course and I have to carry I definitely play worse. To be able to have whatever you want with you at all times, and not having to worry about your bag being too heavy to carry is a big advantage.
The biggest thing it's improved on for me is how much it folds down. It fit's in and out of my car's trunk easily and leaves plenty of space to fit my tour bag in as well. Stewart Golf have definitely upped it a level with this new addition.
WHEN I GO ON A TRIP AND I HAVE TO RENT A CADDIE, IT'S THEN YOU REALISE YOU'RE MASSIVELY SPOILED WITH THE Q FOLLOW
To learn more about Stewart Golf's award-winning Q Follow, click here.
To check out more from Seb On Golf's YouTube channel, click here.